CONNECTING ALL STRANDS - LEVEL 3A IS wiNnER OF
the 2015 CLNZ Education Award
'Teachers' Choice – Best Resource in Primary'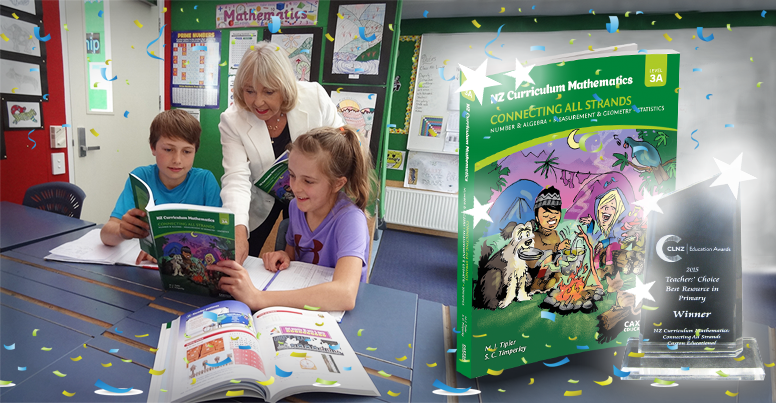 Photo: New Zealand Author, Maryanne Tipler with students using the winning maths resource.
The award is for their resource 'NZ Curriculum Mathematics: Connecting All Strands Level 3A', by M J Tipler and S C Timperley, which was published early 2015. CLICK HERE TO PURCHASE LEVEL 3A. It consists of a Student Resource Book along with its companion Online Teacher Support resource.

Main author, Maryanne Tipler, is delighted. She says "We work hard to write resources which help both students and teachers enjoy learning and thinking mathematically, while meeting the curriculum requirements". She adds "I think the key is that we seek feedback from those at the coalface at every step of the publishing process – and it's great to see the hard work in this area pay off."

Assisting author, Sue Timperley, also explains that as an ex-maths teacher, her desire has always been to create maths resources that positively engage children through a wide range of fun and challenging activities that meet the needs of the NZ curriculum.

Both authors feel the teachers' choice award is the best endorsement they can receive. They say "It shows the resources are really supporting teachers in their practice and children in their learning."

Mel Watson, manager of Caxton Educational, is extremely pleased to see the book get publicly recognised on a national level. "It's fantastic. We get positive feedback all the time from maths teachers, but this has now been reiterated by the Awards. It's great. We're a totally New Zealand authored and owned and operated company. And this really does reaffirm the huge commitment of our authors and design team to New Zealand students and their maths teachers. In particular, it's recognition of Maryanne's exceptional talent as a maths author."

Caxton Educational's Level 3B book, the next book in their 'NZCM Connecting All Strands' series, is AVAILABLE NOW, CLICK HERE TO PURCHASE LEVEL 3B. Its companion "Online Teacher Support" resource is due out in March.