AVAILABLE NOW - NZ Maths Book Level 2A
---
The fifth book of our Connecting All Strands series. Level 2A Student Resource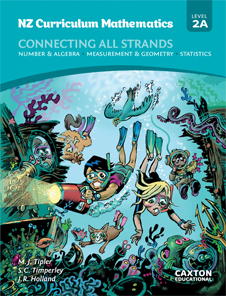 NZ Maths Book works in partnership with Level 2B and fully covers and connects
all strands of the latest New Zealand Curriculum Mathematics.
The emphasis is on connecting the strands by pointing out where numeracy strategies
can be used in other strands and also using Geometry, Measurement and Statistics in
the Number and Algebra strand wherever possible.
Your students will love the new characters and exciting student focused activities,
discussions, games, puzzles, practicals and investigations, plus, a brand new feature for
Level 2, Number Knowledge.

There are two NZ Maths books to cover each of levels 2, 3 and 4 of the curriculum.
Book A covers the earlier part of each level and Book B covers the later part.
Each book includes:
Extensive mappings from the curriculum to the book to guide your planning.

Rich tasks to engage students and groups in mathematics. These can be used for independent or group work, homework or as an extension.

A starter activity and a check up on the skills students need to know at the beginning
of each chapter.

Questions that build confidence, encourage mathematical thinking and enhance mathematical communication.

Enough material so that you can choose the best combination of work to study.

Comprehensive coverage of the curriculum.
Click here to see sample pages of Level 2A.